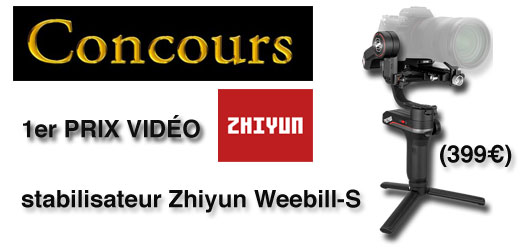 Participez nombreux ! 5 lots à gagner
This stream auto-updates
Past hour

Bonjour, Je n'utilise pas pas MAGIX. Les fichiers audio issus de l'encodage MTS sont souvent sous AC3. Et Microsoft n'a pas voulu payer des royalties pour intégrer le décodage des fichiers AC3 dans Win 10. Il faut donc voir si Magix ne peut pas fournir ce décodage. JJK

Yesterday

Pour le 1 et 10 ça fait référence aux noms en anglais de ces films.

Pour ce 39, je suis embêté, j'ai pensé aussi à La belle et la bête de 1991 mais la bête ressemble plus à un lion, donc je ne suis pas sûr. Disons que c'est la bonne réponse

Bonsoir à tous, je vole à votre secours : 39 - La belle et la bête ! ... Ouf hein ?

Grâce aux prérogatives votées par le parlement, et proposées par le gouvernement, le CNC est en mesure de faire des entorses à la chronologie des médias, afin de bousculer les fenêtres d'exploitation des longs métrages selon le support (DVD, TV, SVOD, etc.), après leur passage dans les salles obscures. 25 films français jamais sortis au cinéma ont déjà demandé l'autorisation de sortir directement en VOD alors qu'en temps normal il y a une période d'attente de quatre mois (trois pour les films de moins de 100 000 entrées). Le CNC ne touche pas aux autres fenêtres, comme celle pour les plateformes de streaming payantes, comme par exemple Netflix. Celles-ci doivent toujours patienter 36 mois avant d'ajouter ces films à leur catalogue. Les 25 films : La vérité Monos Samsam Histoire d'un regard Les siffleurs Un divan à tunis #JeSuisLà Play Papi Sitter Une belle équipe Le lac aux oies sauvages Notre dame Une mère incroyable Mine de rien Birds of Prey Au cœur du monde La voie de la justice Selfie Adam Le cas Richard Jewell Sonic le film Des hommes Cuban network Lucky L'esprit de famille Invisible man 1917 Queen & Slim Le voyage du Dr. Dolitlle Le lion source : numerama.com

Non ce n'est pas la bonne voie, c'est un film de ce millénaire que je ne pense pas que tu l'ais vu ; C'est vraiment grand public plutôt pour jeunes adultes.

Le 23 : je pense que la bière et la cigarette pourraient signifier "blondes" mais c'est l' ours qui pose problème

En prolongeant certains totems de Histoire d'O, on peut aller sur le masque d'Orange Mécanique.

JEANJEAN01300

joined the community

résumé des réponses trouvées : (mise à jour avec les nouvelles réponses jeudi 21H) 1 2 orange mecanique 3 Mary Popins 4 l'homme qui murmurait a l'oreille des chevaux 5 la planète des singes 6 spiderman 7 8 Le Secret de Brokeback Mountain 9 Le laureat 10 11 12 13 E.T. l'extra-terrestre 14 15 16 17 Slumdog Millionnaire 18 19 le 6eme sens 20 21 22 23 24 pour une poignée de dollars 25 Psychose 26 Le diable s'habille en Prada 27 Edward aux mains d'argent 28 titanic 29 4 mariages et un enterrement 30 SOS fantomes 31 danse avec les loups 32 le facteurs sonne toujours 2 fois 33 34 L'odyssée de Pi 35 le livre de la jungle 36 Men in black 37 anges et démons 38 L'étrange histoire de Benjamin Button 39 La belle et la bête 40 la belle et le clochard

Le 17 : Slumdog millionaire Le 13 : E.T. ?

perdrix110

joined the community

Pour le 1 je ne suis pas sûr de la réponse mais je ne pense pas que ça soit cela parce que ce sont des films connus par le grand public. Je pense que le 1) fait référence à un titre en anglais mais qui est connu.

34 l'odyssée de Pi 24 pour une poignée de dollars 25 psychose

26 (Le diable s'habille en Prada), 27, 32 bons !

Le 27 : Edward aux mains d' argent ? Le 32 : le facteur sonne toujours 2X

26 le diable est habillé en prada

oui et le livre de la jungle, je ne l'avais pas trouvé mais je pense que tu as raison

31 danse avec les loups 35 le livre de la jungle

oui pour tous et Mary Poppins

Le 40 : la belle & le clochard (Disney) Le 6 : Spiderman Le 8 : le secret de Brokeback Mountain Le 38 : L'étrange histoire de Benjamin Button Le 4 : l' homme qui murmurait à l'oreille des chevaux Le 5 : La planète des singes Le 3 : Mary Poppins ?

Tout bon sauf le 34, ce n'est pas "le tigre du Bengale"